Landscape Design & Installation
We offer a variety of landscape services and are skilled at providing each and every one of our clients with a new landscape installation, an outdoor space update or a full renovation. At Mountainscapers, we consistently strive to make the process as easy as possible; managing the entire project, from design and layout to the complete installation and follow-up customer care. We set ourselves apart from other landscape design companies with our original designs and innovative style, bold material choices, and the out unmatched construction and installation skills.
We are the Leaders in Innovation and Design
 
One of the newest inventions we have designed at Mountainscapers is our amazing new sprinkler system that is supplied with low cost and nutrient rich flood irrigation water. This system is eco-friendly and cost effective, because of the ingenuity of its design. This system will allow homeowners to water their lawns with nutrient rich water, so they have the most beautiful lawn and plants in Phoenix.
 
The irrigation system consists of two underground tanks. These tanks are placed in a way so that the tree roots are not disturbed. Each individual tank holds about 1,700 gallons of water. The system uses nature's gravity to pull water each time irrigation is distributed. Along with flooding the yard once or twice a month, the irrigation system allows homeowners to store the water and use it throughout the month.
 
Irrigation water is a great option for your home because of its affordability and how much it will help your lawn and plants thrive. When the months become hotter and there needs to be more water distributed, the system does have the ability to use both city and irrigation water. The way this is achieved is using a pressure valve that regulates and reduces the water flow. This also helps keep the water separated from each other.
 
This is Mountainscaper's ingenuity and Innovation at its finest!
Mountainscapers Landscaping Offers the Following:
Design, Construction and Complete Installation
Complete Landscape Packages
Design Only Package
Water Features, Waterfalls, Waterslides, Waterwalls, Fountains, Ponds, Flowing Creeks
Fire Features, Firepits, Fireplaces, BBQ's, Torches, Fire Fountains
Outdoor Kitchens
Hardscaping, Masonry, Walls, Curbing
Patios, Walkways, Concrete, Travertine, Flagstone, Pavers, Masonry
Boulders
Rock
Lighting
Mounding
Permaculture
Trellises, Gates, Fencing
Tiki Torches
Outdoor  Furniture
Pots, Softscapes
Easy Process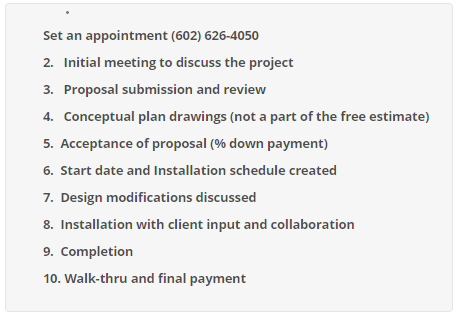 http://www.mountainscapers.com/shade-structures/
Design and Layout 
http://www.mountainscapers.com/shade-structures/#/
We provide landscape design, construction and installation service for Phoenix, Scottsdale, Flagstaff and Paradise Valley.
Landscape design is the art of modifying the features of a yard or space for aesthetic or practical purposes.  The design includes the development of plans, sections, elevations, and sometimes perspective sketches.
Mountainscapers Landscapers  provides both solo designs as well as designs that are a part of a complete landscape package.
A solo design is a colored rendering to scale that provides a more detailed plan/drawing for which every element is labeled.  Complete Landscaping Packages are colored sketches which are not as detailed but do provide the client with a clear understanding of the plan.
We are passionate about designing innovative and creative landscapes to suit your specific needs.  We will collaborate with you to design your perfect vision.  Whether you are looking for an outside adventure, year-round outdoor living, an oasis, or a quiet sanctuary, we can help you build your dream.
Construction and Installation
Our years of experience translates into an easy installation process as well.  Below are some general progression and steps for what you might expect after we sign a contract and collect a deposit.
Design approval client /HOA or other sources
Marking for underground construction – irrigation, lighting, etc
Material sourcing and ordering
Site Preparation
Install underground features – irrigation, lighting, electricity
Begin Hardscaping Foundations
Complete Texture/Paint of Hardcapes
Softscape Installation
Client Consultation and Approval
Final Walk-thru and Payment