Landscape Design & Installation
We offer a variety of landscape services and are skilled at providing each and every one of our clients with a new landscape installation, an outdoor space update or a full renovation. At Mountainscapers, we consistently strive to make the process as easy as possible; managing the entire project, from design and layout to the complete installation and follow-up customer care. We set ourselves apart from other landscape design companies with our original designs and innovative style, bold material choices, and the out unmatched construction and installation skills.
Leaders in Innovation and Design
     –  Now Offering 3D Designs –
Before Photo
Imagine being able to see your project before any work begins.  With our 3D designs we can show you options, allowing you to make the best decision for each aspect of your project and experience the final product before a final commitment.
| | |
| --- | --- |
| 3D Design | After  Photo- Actual |
|   |   |
Design and Layout 
http://www.mountainscapers.com/shade-structures/#/
We provide landscape design, construction and installation service for Phoenix, Scottsdale, Flagstaff and Paradise Valley.
Landscape design is the art of modifying the features of a yard or space for aesthetic or practical purposes.  The design includes the development of plans, sections, elevations, and sometimes perspective sketches.
We are passionate about designing innovative and creative landscapes to suit your specific needs.  We will collaborate with you to design your perfect vision.  Whether you are looking for an outside adventure, year-round outdoor living, an oasis, or a quiet sanctuary, we can help you build your dream.
Mountainscapers Landscapers  provides both 2D and 3D Designs
Mountainscapers Landscaping Offers the Following:
Design, Construction and Complete Installation
Complete Landscape Packages
Design Only Package
Fire Features, Firepits, Fireplaces, BBQ's, Torches, Fire Fountains
Outdoor Kitchens
Water Features, Waterfalls, Waterslides, Waterwalls, Fountains, Ponds, Flowing Creeks
Hardscaping, Masonry, Walls, Curbing
Patios, Decks, Walkways – Concrete, Travertine, Flagstone, Pavers
Boulders, Rock,
Lighting
Mounding
Permaculture
Trellises, Gates, Fencing
Outdoor  Furniture
Pots, Softscapes
Tiki Torches
Easy Process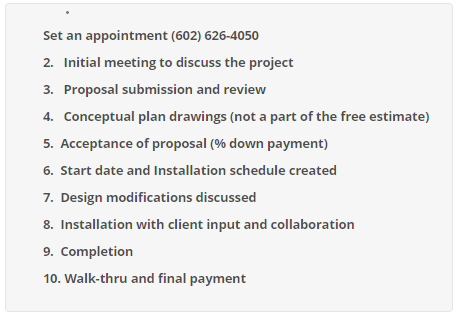 http://www.mountainscapers.com/shade-structures/
Construction and Installation
Our years of experience translates into an easy installation process as well.  Below are some general progression and steps for what you might expect after we sign a contract and collect a deposit.
Design approval client /HOA or other sources
Marking for underground construction – irrigation, lighting, etc
Material sourcing and ordering
Site Preparation
Install underground features – irrigation, lighting, electricity
Begin Hardscaping Foundations
Complete Texture/Paint of Hardcapes
Softscape Installation
Client Consultation and Approval
Final Walk-thru and Payment